Product Information
Features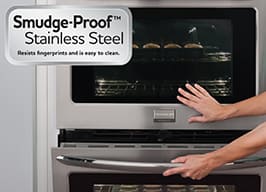 Smudge-Proof™ Stainless Steel
Smudge-proof™ stainless steel exterior resists fingerprints and other messy smudges so it's much easier to keep clean.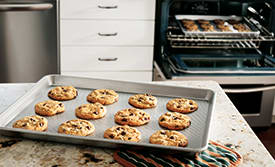 Effortless™ Convection
Simplifies convection cooking with automated temperature conversions. You can still cook your favorite family recipes with confidence knowing that your oven will do all the math for you.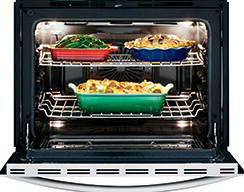 True Convection
Faster, more even multi-rack roasting and baking thanks to a single convection fan that circulates warm air throughout the oven cavity.
Even Baking Technology
Enjoy even baking every time with Frigidaire's innovative Even Baking Technology. Whether it's a large batch of cookies or multi-layered cake, you can rest assured this oven is equipped to handle the job.
Power Broil
A powerful broiler means faster broiling times. With more power even your largest dishes are cooked to perfection.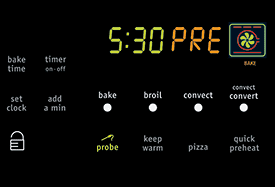 Quick Preheat
This range preheats in just minutes! With the oven up to temperature faster, you can get dinner on the table quicker than ever before.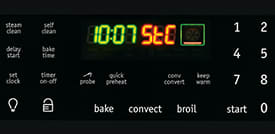 Steam Cleaning
The power of steam cleaning now in your oven! This chemical-free, odor-free and fast cleaning technique cleans your oven without all the drawbacks of standard self-clean ovens.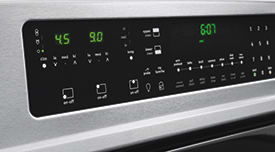 Express-Select® Controls
It's never be easier to select cooking temperatures, set the timer or choose one-touch cooking options. Now all the most important functions are right at your fingertips.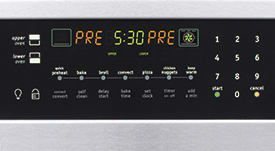 One-Touch Options
One-touch buttons put a multitude of functions at your fingertips. Whether you're setting the timer or turning on the warming feature, it's all so fast and simple.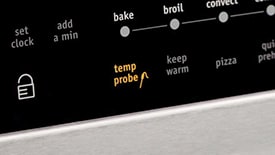 One-Touch Keep Warm Setting
Now you can keep food warm until everything, and everyone, is ready… and all at the touch of a button.
Delay Start
Delay start baking option turns on the oven at exactly the right moment so you can begin cooking on your schedule. Up to 24 hour programmable delay.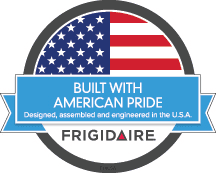 Built with American Pride
This range was designed, engineered and assembled in the USA. It's just one of many high-performing and highly innovative appliances from Frigidaire's American manufacturing facilities.
Specifications
Certifications & Approvals
Sabbath Mode (Star-K® Certified): Yes
ADA Compliant: No
Agency Approval: UL/CSA
Exterior
Control Panel Finish: Plastic Black with Black Stainless Steel Overlay
Door Finish: Smudge-Proof™ Black Stainless Steel
Handle Color: Black Stainless Steel
Exterior Finish: Smudge-Proof™ Black Stainless Steel
Cooking Controls
Bake: Both Ovens
Convection Conversion: Both Ovens
Keep Warm: Both Ovens
Quick Preheat: Both Ovens
Self-Clean: 2 3 4 Hours – Both Ovens
Interface: Membrane
Oven Light: Both Ovens
Lockout: Both Ovens
Temperature Probe: Yes – Upper Oven Only
Start Time: Multiple Functions – Both Ovens
Timer: Both Ovens
Capacities
Oven 1 Capacity: 4.6
Oven 2 Capacity: 4.6
Oven Specifications
Oven 1 Type: Upper
Oven 1 Bake: 2000 Watts
Oven 1 Baking System: True Hidden Bake
Oven 1 Broil: 6 pass 3400 Watts
Oven 1 Broiling System: Variable (400°F to 550°F)
Oven 1 Convection: 2500 Watts
Oven 1 Convection System: Single Fan
Oven 1 Interior Lighting: 2 Halogen
Oven 1 Rack Configuration: 2 HD Handle 1 Offset
Oven 1 Rack Positions: 5 positions
Oven 1 Cleaning System: Self Clean w/Steam Clean Option
Oven Window: XL Window
Internal Specifications
Oven 1 Interior Height: 17-1/2″
Oven 1 Interior Width: 24-1/8″
Oven 1 Interior Depth: 18-3/4″
Oven 1 Interior Color: Midnight Black
Oven 2 Specifications
Oven 2 Type: Lower
Oven 2 Bake: 2000 Watts
Oven 2 Baking System: True Hidden Bake
Oven 2 Broil: 6 pass 3400 Watts
Oven 2 Broiling System: Variable (400°F to 550°F)
Oven 2 Convection: 2500 Watts
Oven 2 Convection System: Single Fan
Oven 2 Interior Lighting: 2 Halogen
Oven 2 Rack Configuration: 2 HD Handle 1 Offset
Oven 2 Rack Positions: 5 positions
Oven 2 Window (Size): XL Window
Internal Specifications
Oven 2 Interior Height: 17-1/2″
Oven 2 Interior Width: 24-1/8″
Oven 2 Interior Depth: 18-3/4″
Oven 2 Interior Color: Midnight Black
Oven 2 Specifications
Oven 2 Cleaning System: Self Clean w/Steam Clean Option
Exterior Dimensions
Height: 50-7/16″
Width: 30″
Depth: 24-3/4″
Depth (with Door 90° Open): 45-3/4″
Electrical Specifications
Power Supply Connection Location: Left Rear Bottom
Voltage Rating: 240V / 208V 60Hz
Connected Load (kW Rating) @ 240V: 7.4 / 5.6
Amps @ 240 Volts: 30.8 / 26.9
Minimum Circuit Required (Amps): 40A
Installation Type
Under Counter Approved: No
Weight and Dimensions
Shipping Weight (lbs): 280
Cut-Out Dimensions
Cut-Out Height: 48-7/8″ – 49-5/8″
Cut-Out Width: 28-1/2″ – 29″
Cut-Out Depth: 24″
General Specifications
Frigidaire Fit Promise: Yes
PROP 65 Label: No
Certifications and Awards
Reviewed.com Editors Choice Award: 2015